Whether you're looking for a New Orleans videographer or need complete video production services,  I approach each project with the same mission: to tell your story in the most compelling, creative and effective way possible.
About Ed Metz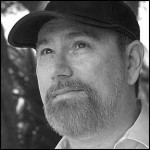 Ed Metz has been peering through one camera or another for over twenty-five years. An accomplished, award-winning Director/Cameraman and Director of Photography, Ed is highly experienced in film and video production for broadcast, corporate communications, marketing, promotions, investor relations, public affairs, trade shows and human resources. Ed's ability extends beyond just capturing compelling footage, to crafting a creative and persuasive presentation that will captivate your audience.
About Filmshooter LLC
Filmshooter LLC is a New Orleans based production company, specializing in high quality film and video production services for a wide range of clients. The company has a reputation for producing creative and effective products delivered on-time and within budget. Our habit of exceeding client expectations has led to many successful long-term client relationships. Give us a call today to discuss your project at 504-858-4255, or use the Contact form to email us any questions.
---
Latest Work

Your Seafood Has A Story
Sponsored by the Gulf States Marine Fisheries Commission, this video debuted at the 2012 Boston Seafood show. The video promotes the use of tracing technology to ensure confidence in the quality of seafood from the harvest to the buyer, dealer and consumer.
View more videos and commercials.
For immediate assistance call 504-858-4255 or use form below to tell us about your project.
We will never share your e-mail address with others. Please review our privacy policy.